Web design has been a constantly evolving part of the internet ever since the first website went live. Website design has a singular purpose - to attract as many people as possible.
While it was a lot simpler then, it has become more competitive today. This is because brands have been coming up with new trends to get people interested.
These days there are several important considerations when designing a website. It needs to be trendy, technically sound, responsive, and mobile-ready, to mention a few. This means that most times, you need a huge amount of expertise to come up with a winning website.
Professional web design companies can deliver a great-looking website for your business. Backlit is one such company based in Ottawa, which you can rely on. They have experienced artists and developers who have worked on numerous projects before. Getting experts working on your website will give you improved metrics and ROI.
Let's take a look at some trends that are going to be popular this year.
Videos As Part Of Design
As a content platform, the video was and is one of the best engagement assets for people. The desirability of the video has grown with time because of increasing internet speeds worldwide. And it will only grow even more in the future.
Video has become so accessible for the users that brands are adding it into their website in backgrounds and carousels.
Another advantage of video is that it is the best storytelling device out there. It beats text and images, hands down. Something to be wary of is the sound on autoplaying videos. Remember to turn the sound off on videos. Having sound on autoplaying videos has been shown to send your traffic numbers plummeting.
Dark And Light Toggle
First, it was on mobiles, and now it's moved on to websites. An increasing number of people have begun to opt for dark mode for their browsing needs. This was one of the most requested features last year.
People have widely implemented it across all niches and with great success. This is a trend which we saw a rise in the last year, and we predict it will continue with more fervor in 2021.
People are going to be expecting the toggle on your website. It is an easy thing to design, and you should get it done as quickly as possible for your website.
Old School Fonts
Retro has a habit of coming back in fashion. And this is the case with fonts. Old style fonts are making a comeback.
A lot of modern websites use vintage typography combined with modern graphical elements to create a distinct style. This has been a huge success with people as well. They seem to respond positively to these trends.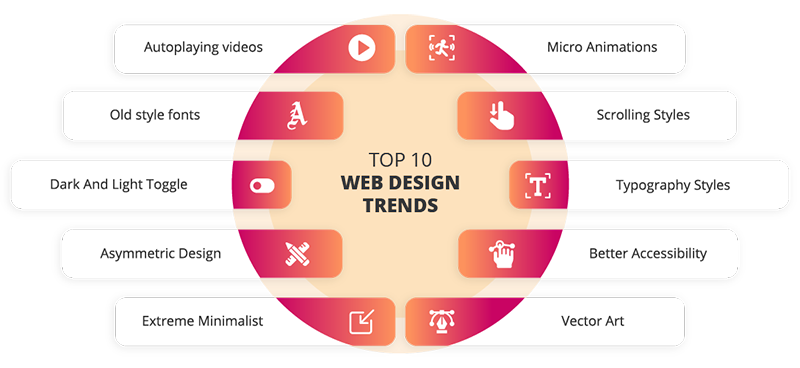 A good example of this in action is Cascade Brewery. They've been able to combine old-style fonts with distinct imagery to attract their audience. We think that this trend will continue well into this year.
Asymmetric And Overlapping Layouts
Symmetry is something that has been a part of web design for a long time now. It seemed the right way to do things because symmetry is meant to balance and stability. But today, asymmetry is in. Daring and bold layouts that are not visually symmetrical seem to be getting attention.
The news approach is to look at the shape and the color and movement of the elements. Most graphic design agencies have asymmetric designs today. They are visually balanced through the clever use of colors and images. Take a look at Studio Revele's website for inspiration for the asymmetric design.
Extreme Minimalist Or Maximalist
Another web design methodology that has been becoming more popular over the years is minimalism. And also maximalism. Websites these days tend to favor one or the other to the extreme. Hyper minimalist designs are believed to be easier on the eye.
A lot of brands prefer this to keep their website uncluttered for their users. A good example of this style is the Level Six website, a company that sells paddling gear based in Ottawa. But the opposing viewpoint also becomes popular this year.
Maximalism is cramming as much information as possible on a page. And surprisingly, this has also been growing in popularity. These websites are normally targeted at a more youthful and aggressive clientele.
Have a project in mind? We'd be happy to discuss it with you. Get in touch with us to know how we became the #1 Web Design Company in Ottawa.
Different Styles Of Typography
Like fonts, typography techniques are also undergoing a sea change this year. There are going to be more adventurous styles like filled typography and contrasting colors. Adding interactive options to it is also something a lot of brands are experimenting with.
Clicking or hovering the mouse pointer on these elements can produce different results. It helps to break up visually heavy pages and add a bit of zest to the page. This creates an interesting website design that is not high on effort but produces a positive visual impact.
Animation And Micro-animation
Animation has always been able to draw in people of all ages to a brand. And because of better internet speeds, the animations are going to become even better and more detailed. This means full-blown animated backgrounds and interactive content for the user.
It can have a lasting impression on your audience. Added to this are micro animations. This could be anything from a small emoji response for a click event to moving text. Micro animations give the website a rich feel.
Scrolling Styles
Even something as basic as scrolling has experimented on this year. Most websites have only top to bottom scrolling, which is the default method. Websites have been moving on to interesting methods of getting this done.
Scrolling patterns have increased today. Horizontal scrolling is a unique way of presenting the website to the user. Another method is to scroll grid wise. This focuses on displaying large elements fully for maximum impact.
Better Accessibility
As web design has progressed, accessibility has always been a concern. Brands have been tweaking accessibility through creative uses of navigation, images, and text. This also includes basic considerations, such as adding alt text to images. This can help people, and search engines can easily access the information even without processing the image.
Rather than a trend, this is a staple of most website designs. And it needs to be as well. The whole point of a website is to make it accessible for the user. It's always important to be inclusive as a brand for the best results.
Vector Art
This is more aligned with the current minimalist trends of website design. Rather than focusing on gradients and heavy image elements, brands are opting for unshaded vectors. This is a sweeping trend which most of the big brands are moving to.
There are many examples here - Google, Microsoft, PayPal, and Netflix, to name a few. The reasoning is that it is easier to process visually and declutters the logo. The inclusion of vector art throughout the website will be an ongoing trend this year as well.
Getting this done can be a hard task, even for the most ardent of web design enthusiasts. The best option would be to hire a professional like Backlit Media to get this done. They are based in the Ottawa area, but they can deliver wherever you are.