A Website Makes You Look Professional
It is 2021, and none lives under the rock. If you think a website for your business is a waste of time and resources, the world takes pity on you. To have or not to have a website is not the question that should bug you. Ask yourself: What style should my website have?
A study says that 84% of today's customers think a business with a website is more credible. An additional perk you get with a website is a professional email address. Assume having support.yourcompanyname@gmail.com as your customer care email address.
Does it look professional?
Absolutely no! Now imagine having support@yourcompanyname.com as your address. It is clean and direct.
Hence it improves your business's credibility. Backlit Media has helped many companies in Ottawa to boost their credibility.
You Can Explain Your Products/Services Better
A good web design will is crucial to explain your products/services to customers. Features such as images, video tutorials, and 360-degree product photos help customers understand your products better. Sections such as FAQs, descriptions, downloadable instruction manual come in handy to foster credibility.
If yours is an eCommerce website, there are many tools available out in the market to make sales so much easier. Cart timer, pre-order, anchor pricing, and unique tags are a few worth mentioning. While a tool like 'Cart Timer' creates a sense of urgency among the visitors, anchor pricing will entice them to buy your products.
Not just that. Strategies such as the 'Add to Cart' button, real-time visitor count, and customer reviews will encourage customers to buy your products by improving their confidence.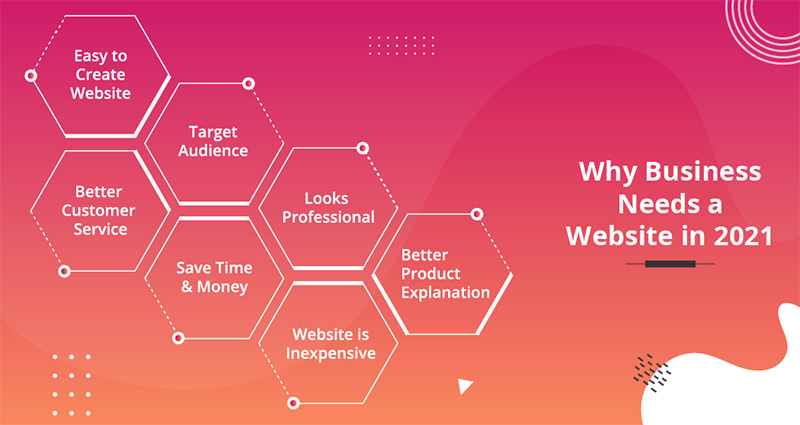 If you are a business that goes the extra mile for the customers, you have chatbots and upsell/cross-sell tools to help you.
To Target Your Audience
Having a website not only brings people to it. A site owner can make use of key performance metrics to his/her advantage. You can easily find the number of people who visited your site from a particular country. It is also easy to see how many of them have visited for the first time.
Metric such as bounce rate will tell you how many exited your site without reading the content. Whereas 'Dwell Time' will help you find how long people spend time on your site.
Email capturing is another technique website owners can use to collect the emails of visitors. You can use the addresses later to send newsletters, curated offers, and the like.
By installing Facebook Pixel on your site, you can collect ever more data. It is an intelligent tool that tracks the actions people perform on your site. Using the tool, one can create custom audience sets, retarget the audience, etc.
Creating a Website is Inexpensive
The Return of Investment of having a website is far higher than that of a brick-and-mortar store. Many assume that the startup and running costs of a website are high. But the truth is that you can have an e-commerce website up and running just for less than a $ per day.
For example, many modern-day e-commerce entrepreneurs rely on Shopify, WooCommerce, Wix, and BigCommerce to run their businesses.
These platforms offer irresistible features at a fraction of the cost required to build a custom website. For example, Shopify's e-commerce plans start at $29 per month. One can run an online store with up to 50 products/services for just $29 per month.
For wannabe entrepreneurs, this is a pretty fantastic deal. As these platforms also provide hosting services, you need not pay for hosting separately. At Backlit Media, we educate our clients on the different platforms available to create websites. We also provide fast and reliable hosting, website maintenance services, etc.
Creating a Website is Easy
Gone are the days when you need a team of web design experts to create a jaw-dropping website. With platforms like Wix and Weebly are in place, web designing has become a breeze. A sea of photographers, bloggers, restaurants, and hotels use their services to create beautiful websites.
In a nutshell, the platforms mentioned above are simple drag-and-drop tools that make web development a child's play. For example, Wix allows one to create HTML5 websites using DIY tools.
One can create beautiful-yet-functional sites without even knowing a bit of code. Form builders, galleries, animations, blogs, inventory management -- you name it, these platforms have it.
You Can Offer Better Customer Service
As a business owner, you can serve your customers a lot better if you have a website. Most of the queries business owners get from people are about the location and business hours. Having your site registered with Google My Business will provide online searchers with your business's location and opening hours.
FAQ section is another feature that elevates the customer experience to the next level. The section helps customers understand your products/services better. Make sure you revise your FAQ section often to stay relevant.
Websites also use how-to-do videos and product tutorials to educate their customers about the products and services. Intelligent chatbots are another way to address your customers' queries right away.
As a website functions round the clock, making announcements for the customers is relatively easy. Websites usually make announcements in the form of banners and pop-ups.
You Can Save Time & Money
Brick-and-mortar stores lose much of their precious time in interacting with their customers. The interactions often revolve around basic queries. By giving the crucial information online, you can save a hell of a lot of time and use it to focus on your clients.
Businesses can cut their expenses towards flyers and brochures, using ebooks, infographics, and flipbooks on their websites. A newsletter is another great way to connect with your customers.
The market one can reach with a website is comparatively bigger. Advertisements on media outlets such as newspapers and radio are costlier than online advertising.
Backlit Media helped many businesses in Ottawa dominate the online marketing game. Pay-Per-Click marketing and social media marketing are our forte. We create customized campaigns for our clients to attain their goals.